Electrode can be changed instantly.

- It is maintenance-free with anti-corrosion structure.
- Reduce equipment cost by installing on upper and lower positions.
- Improve tact time
- Easy to set and weld different types.
- Suitable for Robot, automatic machine and manual operarion.
Automatically rotates 90 degrees.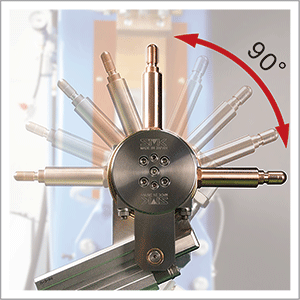 Rotation speed and rotation angle (90 degrees) are set according to our company standard before shipping. Do not adjust by your self when you use. Otherwise, malfunction may result.